the school day
September 2022
At the start of the autumn term school will open to all pupils in all year groups (except our new Reception class) on Tuesday 6th September 2022. We have considered carefully the opinions of parents expressed through our parents' survey carried out in the summer term 2022. Some of our arrangements put in place during the pandemic were preferred by the majority of parents and staff, so we have retained them.
We are looking forward to seeing the pupils once again, and wish to reassure you that the safety and well-being of our school community is our priority. We will continue to review our arrangements as the term progresses and will notify you of any changes at our earliest opportunity.
Worried about your child returning to school?
The vast majority of our families have demonstrated great faith in the school's ability to keep everyone safe. As we have operated under more relaxed COVID controls for a long time and are confident in how to 'step up' control measures, we do not foresee any great change to how school will operate in the coming term.
What about Glenmead staff?
The large majority of staff at Glenmead are now fully vaccinated and some are set to receive a booster jab in the autumn term. School staff have received training and they are all very familiar with how school 'steps up' and 'steps down' control measures as COVID case numbers rise and fall.
How are we maintaining a safe school environment?
Although many of you have expressed great faith in the staff at Glenmead, it is important that we maintain some preventative measures to minimise the spread of infection. The virus is still with us and retaining the capacity to reimplement control measures will help us to prevent the spread of the virus, should that be necessary. There is the potential for case numbers to rise once schools return, so vigilance and caution are the best way forward.
As an important part of our school community, I would ask that you continue to encourage good infection control practices such as thorough handwashing at home. Try to keep your child informed about the things they can do to discourage the spread of infection.
What if my child gets ill?
If a child develops COVID-19 related symptoms during the school day, they will be placed in a room designated for the purpose of isolation with an adult to supervise them. We will contact you to collect your child and take them home. The school would then encourage you to get your child tested for COVID-19. A 3-day isolation period is advised for younger pupils from the day of the positive test, school would advise slightly longer if symptoms persist.
If you think that you, a family member or your child has developed COVID, please contact the school on 0121 464 3173 or via direct Class Dojo message. This will assist us in planning to control a possible outbreak.
What should pupils wear to school?
Pupils should wear school uniform at school. Please see our school website for more details: GLENMEAD UNIFORM We prefer the children not to wear hoodies inside the school building, but they can be worn on the way to and from school. Jewellery; necklaces, bracelets and large earrings are not permitted in school. Nail varnish and makeup should not be worn by pupils to school. We prefer proper school shoes to trainers and black shoes are always our preference.
Pupils may come dressed in their PE Kits on their PE day. However, the children should avoid wearing branded PE kit. The t shirt should be in their house colour accompanied by black shorts, leggings or joggers. A water bottle is essential school equipment.
Pupils can bring book bags and backpacks to carry their belongings to and from school. Toys and games are not permitted in school. School no longer provides a pencil case for pupils or individual stationery. Although there is no requirement to do so, parents can provide any stationery, equipment or pencil cases they wish their child to have in addition to what we provide in school. However, school cannot be held accountable for the loss or damage to personal items brought in to school.
Y5 and 6 – mobile phones
Year 5 and 6 pupils begin to walk to and from school on their own. If this is the case, they are permitted to bring a mobile phone for security while walking unaccompanied. Please notify school if a Year 5 or Year 6 pupil has permission to walk to school alone and their parent has consented to them bringing their phone to school.
Pupils' phones must be switched off once they come on to the school campus and are stored in a secure location all day. Pupils collect their phones at the end of the day and must not switch phones back on until they are off the school campus.
Pupils in breach of this agreement will no longer be allowed to bring their phone to school.
What should we do at dropping off and picking up times?
The large majority of you have told us through the parents' survey that you prefer to avoid adults congregating around the school gates and on the school campus, as this encourages a calmer start to the school day. We have therefore retained our start and finish times and the use of all of our many gates.
A member of staff will always be on duty at your child's gate.
Times and locations will be as follows: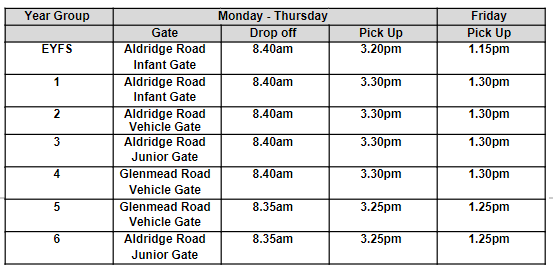 Pupils who are late will find their gate locked. They should come to the Main Gate on Glenmead Road and ring the Main School Office (0121 464 3173) to request entry.
What about wrap-around care and after school clubs?
Inspired Children's Club (formally Beeches Kids' Club) will be open for our working families from 07:30 each morning. Please contact Inspired Childrens' Club website to check arrangements. They will be based in the main hall and parents should bring children using this childcare facility through the main gate on Glenmead Road.
To contact: visit their website https://inspiredchildrensclub.com/glemead/
Booking can also be made through their website:
https://inspiredchildrensclub.com/parents/
There will be a range of school-led extra-curricular clubs on offer in the autumn term, mainly run by our own school staff. These clubs change every half term to maintain novelty and to interest a wider range of pupils. These are advertised on Class Dojo and can be booked through Parent Pay. There is no charge for the large majority of these.
What happens at break times and lunchtimes?
Year groups will be allowed out to play on a staggered rota so that playgrounds do not become over-crowded. This allows more play space and makes playtimes more enjoyable. Play equipment encourages the children to engage in sustained physical activity as well as co-operative play and teamwork.
AiP, our meal provider, will be supplying our meals prepared in the school kitchen. Our year groups will go into lunch together and pupils can sit with friends in the same class. The number of pupils in the hall at any one time is managed carefully, so that the atmosphere in the hall remains calm. The hall will be well ventilated, with doors and windows open. The school meal offer will be published on Class Dojo weekly. Pupils choose from a selection of sandwiches on Fridays and these are eaten in their classrooms.
All our infant classes will receive a school meal every day through Universal Free School Meals. If your child is in the juniors, and is entitled to Means Tested Free School Meals, they will automatically receive a school meal every day. AiP are happy to provide meals to the families of junior children. There are a range of 'themed' meals offered throughout the year and these can be ordered as and when required. Meals should be ordered and paid for in the usual way on Parent Pay.
If you supply your child/ children with their own packed lunch every day, this should be brought to school in a sandwich box or bag. These should be clearly labelled with your child's name and class.
Dropping off and picking up
Parents have stated that they much prefer avoiding coming onto the school campus when they drop children off in the morning and collect them at the end of the school day. Meetings with school staff can be arranged on request and a quiet meeting room can easily be arranged. Remote meetings using Zoom or TEAMS can also be arranged with relative ease.
Drop Off
Between 8.35am – 8.40: Year groups arrive at their own gate within their time slots
11.45am – 1.45pm: Staggered lunchtime.
Year groups will be accommodated in the main hall on rota. Seating is comfortably spaced to avoid over-crowding. Year groups will have their own zones on the playground when out at play. When the weather is fine and dry the children can play on our extensive field.
Pick up
Between 3.20pm – 3.30pm: Year groups are dismissed at the end of the day within staggered timeslots. Adult should arrive to collect their child/ children at the designated pick-up gate. Staff in school will hand your child over at the gate.
I have more than one child – how does that work?
Children in the same family can be dropped off in the morning together. This should be at an older sibling's earlier timeslot and gate. Staff will support younger siblings to find their correct route in to join their year group.
For parents new to the school with siblings, staff will contact families to confirm arrangements as to where your children can be dropped off and collected; times and gates. Messages come via Class Dojo and/or email.
School finishes early on Fridays.
Both our parents' survey in summer 2022, and our recent OFSTED inspection, recognised that early finishes on Friday afternoons are a way of balancing the needs of families, the workload of staff and the financial burdens that schools face. Children will be dismissed at staggered time slots from 1:15 pm onwards from their usual pick-up points. Lunch will be provided in school before pupils are dismissed and a celebration assembly conducted to finish the week on a positive note.
Although pupils are not in school on Friday afternoons, leaders have extended the school day to compensate for that. This will help with catching up on lost learning and maximise the time the children have in school.
On Friday afternoons, staff will be directed to work with their year group colleague to plan and prepare the children's lessons for the following week. While teachers are planning, preparing and assessing the pupils' work, the cleaning team prepare the school site ready for the next week. We are not only aware that we may be called upon to control a COVID upsurge in the autumn term, but are also conscious of the prevalence of respiratory infections and Noro Virus. Our cleaning methods have taken that into consideration.
Working families can continue to expect support with childcare on Friday afternoons and their children can remain in school until 3.20 when Inspired Children's Club take over. Please confirm with school if you need to access Friday afternoon child care support provided by school.
Are there any school events?
We will proceed with our programme of events such as school trips, class assemblies, music concerts and face-to face parents' evening meetings and sports events. We know how much you value them. We will also continue to follow the advice of Birmingham Public Health colleagues and the Department for Education. We will advise you should the situation change.
What about travelling to and from school?
Birmingham City Council are encouraging as many families as possible to avoid using cars when travelling to school, as parking causes more congestion outside school. Families are encouraged to walk, cycle and use scooters to travel to school where ever possible.
If driving is unavoidable, please try to park at a distance and walk the last part of the journey, to avoid parking very close to the school.
Encouraged by your positive feedback, school will be continuing the one-way system drop off zone on Glenmead Road. Vehicles will come on to Glenmead Road via Meadthorpe and go off via Dyas Road.
Support for pupils and families
We do not underestimate how difficult the last year or so has been, and are acutely aware of the challenges that lie ahead. Many families have suffered greatly during the coronavirus pandemic and are also mindful of the financial pressures that have more recently come to bear. We recognise the need to focus on pupils' emotional wellbeing as well as their learning recovery and will be continuing that strong focus on our return to school in September.
There is a great deal of support available to families through Birmingham City Council. Parents may wish to seek support for themselves from the Council and partner agencies. The support available can be reached through the Birmingham City Council website on the link below:
I hope that these arrangements provide you with the information you need to support your child's return to school. I would like to take the opportunity to thank you for supporting the school both during the pandemic and since. The very positive feedback you have given to us about the support we have offered our school community makes all our hard work worthwhile.
By working together, we have helped to make the challenges we have faced a little bit more manageable. We extend enormous thanks for your continued and sustained support for our school.