Newsletter
15.09.23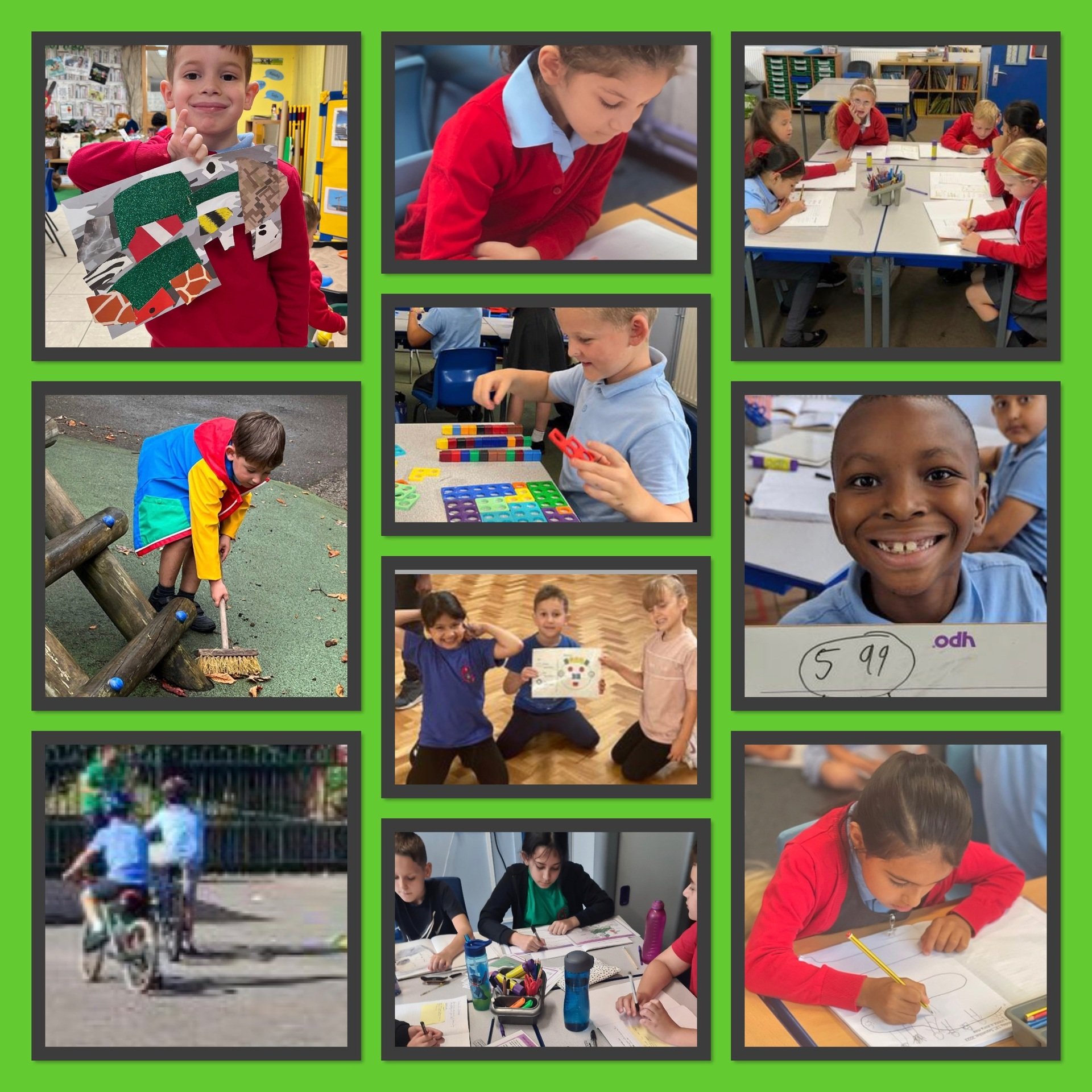 Happy Friday everyone. I hope you are all safe and well and keeping your heads above water. We know how challenging life feels currently. Let's see if we can cheer you up with all the various and wonderful things the children have been up to in school this week.
It is such a pleasure to see so many of you engaging with Dojo and using it to keep informed about what's happening in school.
Dojo events calendar: Mrs Stokes has been adding all the term dates onto the events section of Dojo. You can refer to this when planning ahead. Keep your eye on events as new things are added all the time – trips, teacher days, parents' evenings, parents' workshops, assemblies and special events in school.
Our Stars of the Week: Pupils have been nominated for impressing their teacher with their demonstration of mutual respect and tolerance: linking to British Values that are promoted throughout our curriculum. Well done to: Amiya, Matvey, Alayna, Verity, Miley, Hollie, Hezekiah and Sanjana.
Sports Personalities: for perseverance in the PE lessons this week were awarded to Andre, Max, Imogen, Kristiana and Kobi. Ella also received a Super Skipping award. She had beaten her score from the end of the summer term. She clearly has been practising.
Bikeability: It is unusual to have this programme so early in the academic year, but it has been a great success. Our Year 5 and 6 pupils have really engaged well and been delighted to hone their skills. It was such a pleasure to see some of the older children come and report to me that they have learnt to ride a bike for the first time and to hear about riding around the neighbourhood for those that progressed to Level 2.
You can see the group photograph of all the children who have achieved Level 1. A lot of children progressed to Level 2 and they will receive their badges and certificates in Monday morning's assembly. Congratulations to them all.
Play Leaders: Our older children are encouraged every year to take on responsibilities and to demonstrate good citizenship by serving our school community in some way. We had our latest group of Play Leaders trained and on duty this week. They all received their certificates in today's assembly. We thank them for supporting the school.
Attendance Winners: cheers went up across the hall this afternoon in our celebration assembly, as competition to win the attendance trophies each week is starting to build. Our winning classes this week were 1G with 99.31% and 6R with 98.85%. Let's see if they manage to hold onto those trophies next Friday or get pipped by another class.
School Food United: The vast majority of families have adapted back to remembering to order the children's meals ready for the school day. The children get a little disappointed if they have no food order and therefore are given the 'safe meal'.
We have messaged a few families to remind them this week, or to check there are no technical difficulties. Please remember to press the 'CONFIRM' to make sure the order goes through and remember you can order several weeks in advance.
Place your orders using this link: https://parents.schoolfoodunited.com/login
Curriculum Newsletters: You will have noticed that Mrs Spencer shared these with families yesterday on Class Dojo pages. We like families to know what topics and subject areas we are teaching, so you can support at home.There is much more detailed information about our curriculum on our school website: https://www.glenmead.bham.sch.uk/curriculum
See you all bright and early on Monday morning. Arriving after 08:50 constitutes being late – resulting in a late mark. You all know how to contact us if you need support or guidance. Give our pastoral team a ring, reach out via a Dojo message or email us on: enquiry@glenmead.bham.sch.uk
The team at Glenmead will always support if we can.