Returning to School March 2021
Information for parents and carers
As you are already aware, school opened to all pupils in all year groups on Monday 8th March. Attendance in school is now compulsory. I am therefore writing to share with you the arrangements we have implemented to ensure the safety of all pupils, staff and visitors to the school. These arrangements have been put into place following a robust risk assessment process and using operational guidance provided by the Department for Education and Birmingham City Council.
We are delighted to welcome our pupils back to school, and I would like to reassure you that the safety of our school community is our priority. We will continue to review the arrangements we have implemented at this stage and update you with any changes as and when we make them. We will notify you if there are any changes in government guidance that will affect the control measures in place.
Just as in June and September, before reopening the whole school we have carried out a risk assessment specific to our school. We have made every effort to minimise the risks as far as we are able. Staff are engaging in Lateral Flow Testing twice weekly allowing school to take decisive action should any test come back positive. All staff and pupils can book a PCR test if they develop symptoms. Alongside other control measures, this access to testing will ensure that the school continues to be as safe an environment as possible.
What happens if someone tests positive?
Any pupil or member of staff that tests positive will be required to self-isolate at home for a minimum of 10 days. Any pupils and members of staff that they have been in close contact with (e.g. the rest of the year group bubble) will be advised to go into quarantine for 10 days also. If an unwell pupil goes for a test and is negative, they can return to school when feeling better and no quarantine is necessary.
It is very important that parents keep school up-to-date with any child who is tested for COVID-19 and the outcome of that test, as it has implications for the rest of the pupils in their year group bubble, as well as the members of staff who teach them.
Did you know that Rapid Lateral Flow Home Testing Kits are available to families of primary pupils now?
The government has increased the range of people who can access the rapid lateral flow tests. All staff and adults that work in our school have been using them throughout February and March. They are simple to do and the results are reassuring as well.
Log onto the government website to find out where you can get a rapid test done for you or where you can collect home test kits to do yourself at home. Click on the link below:
Worried about your child returning to school?
We recognise that some of you may have some concerns about your child/children returning to school. However, they all returned to school in the autumn term successfully and adapted well to the changes we had put in place, so we are confident they will do so again.
We understand that the months you have spent at home will have been challenging for many families. If you would like to talk to us about your child and any concerns you have about their return to school, please – in the first instance – contact your child's class teacher via Class Dojo or via enquiry@glenmead.bham.sch.uk.
We will rely on our knowledge of the children to support them as they reintegrate into school in as smooth a way as possible. In the early days of their return, as well as reinstating the familiar routines, we will also be building in lessons with a focus on social and emotional elements of our PSHE curriculum, so that the children have an opportunity to explore what the collective experience of social isolation has been, as well as their individual response to it.
What about Glenmead staff?
Our staff have been fit and healthy, on the whole. A very small minority have been required to isolate, but have now returned to school. The teachers have received training and they will all understand the control measures that we have put in place. The raft of measures we have in place are very similar to the autumn term. Pupils will be in their year group bubbles and staff can move between the classes if necessary.
A year group will come in the same entrance, dine together at lunchtime, and play together on the playground. We will encourage the older children to exercise social distancing of 2 metres, however the younger children find this more difficult. We have put extra staffing in Reception and Year 1 so that their registration groups are smaller. Our priority is that everyone in school feels as safe and secure as possible.
How are we maintaining a safe school environment?
Although many of you have expressed great faith in the staff at Glenmead, it is important that we inform you of the preventative measures the school has put in place in order to minimise the spread of infection. The virus is still with us and new variants have emerged. Keeping these control measures is controlling the spread of the virus until the data improves further.
As per the advice from the government, the following actions for infection control are in place:
Displaying coronavirus infection control measures information posters around the school
Encouraging good hygiene by promoting the importance of handwashing for at least 20 seconds with water and soap in the following circumstances:

Before leaving home
On arrival at school
After using the toilet
After breaks and sporting activities
Before eating any food, including snacks
Before leaving school

Installing hand sanitiser dispensers that contain COVID-19 compliant sanitiser gel throughout the school
Ensuring pupils and staff understand that they must follow the catch it, bin it, kill it strategy
Ensuring frequently touched objects and surfaces are cleaned and disinfected throughout the school day
Strictly following the test and trace protocols set out by the government
Telling staff and children to stay at home for 10 days if a member of a bubble tests positive for coronavirus
Limiting the number of adults allowed onto the school campus
Staggering the start of the school day, playtimes and lunchtimes
Limiting movement around the building and avoiding the mingling of year group bubbles
No gatherings for assemblies and no large staff meetings
Discouraging pupils from bringing too many personal items into school
Avoiding the sharing of learning resources
The absence of soft toys and textiles in classrooms
Adhering to social distancing guidance wherever and as far as is practical
Additional cleaning of classrooms, toilets and common areas throughout the school day
Deep cleaning every Friday afternoon
As an important part of our school community, I would ask that you continue to encourage good infection control practices such as thorough handwashing at home. Try to keep your child informed about the things they can do to discourage the spread of infection.
What if my child gets ill?
If a child develops COVID-19 related symptoms during the school day, they will be placed in a room designated for the purpose of isolation with an adult to supervise them. We will contact you to collect your child and take them home. The school would then encourage you to get your child tested for COVID-19. (You can request a test by visiting: https://www.nhs.uk/ask-for-a-coronavirus-test or contact NHS 119 via telephone).
If you think your child may have been exposed to or has coronavirus when under your care, please contact the school on 0121 464 3173 at your earliest opportunity.
What should pupils wear to school?
Pupils will be required to wear school uniform at school as normal. They may come dressed in their PE Kits on their PE day.
Pencil cases, stationary and other personal items are not encouraged, as they can be a source of contagion. No watches or other items of jewellery are to be worn to school. Again, they can be the cause of infection and are often difficult to sanitise. Reading books and reading diaries or planners can be brought in a plastic wallet. These are easily sanitised. Water bottles can be brought in to school to be filled with water at water dispensers around school.
What should we do at dropping off and picking up times?
The beginning and end of the school day are the busiest times for children and adults congregating together in one place. This is an opportunity for infection to spread. We know that infection spreads more easily between adults, so it important that we do not have groups of adults congregating around the school gates and on the school campus.
We have staggered the start of the school day and collection times to avoid crowding. We have also arranged for parents to drop off their child at a designated gate for their year group bubble. 2 metre line markings have been placed along the railings to allow safe distancing while parents wait to drop off their children. The times for dropping off and picking up of pupils will be staggered for each year group bubble to avoid crowding and congestion.
A member of staff will welcome pupils at the gate and direct the children to line up, sanitise their hands and then go into the correct entrance for their year group bubble. Different year groups have to be kept apart as much as is possible.
This does not extend to siblings that live in the same household; separate arrangements have been made for children in the same family and we will coordinate which gates siblings should use.
Times and locations will be as follows: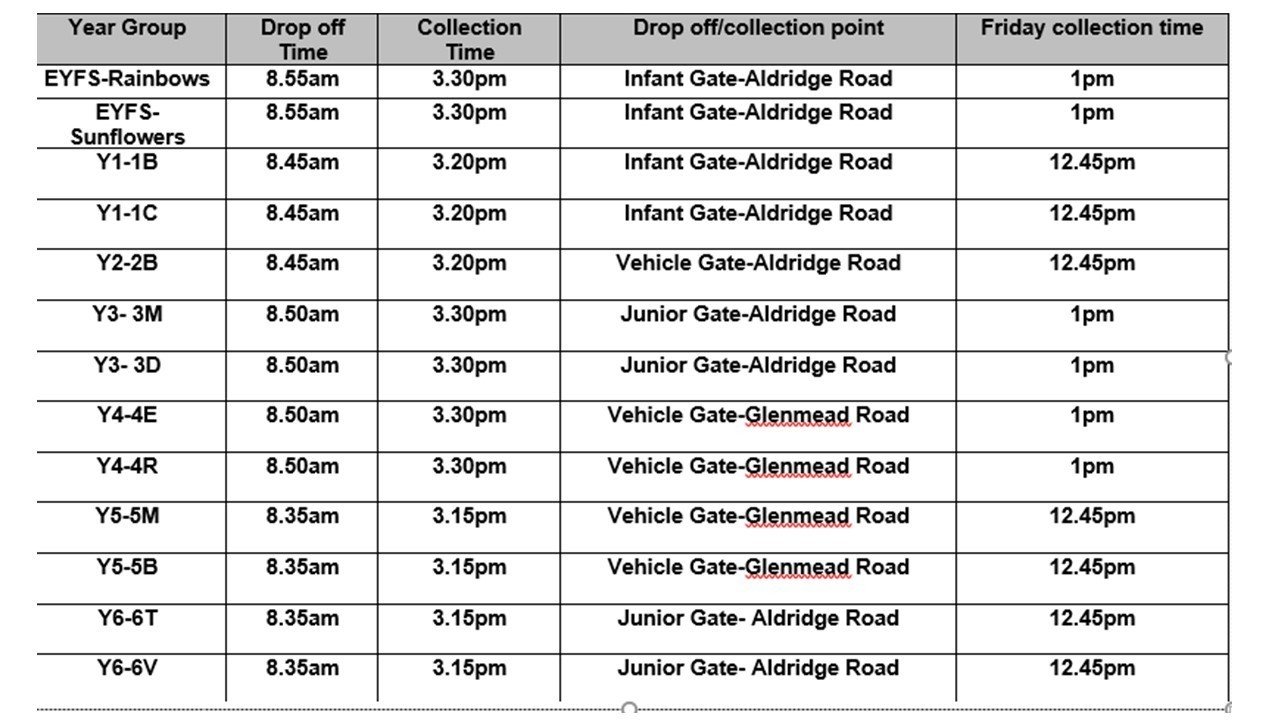 Pupils who have missed their drop off time and are late may find their drop off gate is locked. They should come to the Main Gate on Glenmead Road and ring the Main School Office (0121 464 3173) to request entry.
Pupil movement around the building will be kept to a minimum. Designated routes for particular year group bubbles have been identified to avoid mixing and to minimise face-to-face contact. This will help us to follow social distancing guidance as much as possible.
What about wrap-around care?
Beeches Kids' Club will be open for our working families and we will be liaising with David Hall to agree his risk assessment and associated arrangements to support the control measures in school, especially the integrity of our year group bubbles. Please contact David Hall to check arrival arrangements.
To contact the Beeches Kids Club Proprietor e-mail:
admin@beecheskidsclub.com or Telephone: 0121 405 0855
Our normal drop-in breakfast club will not be running for the foreseeable future.
We have recommenced after-school extra-curricular clubs as we recognise that the pupils have missed out on a lot of enriching activities during their time away from school. These are mainly run by our own school staff and maintain bubble integrity. More details of these clubs will be advertised on Class Dojo and can be booked through Parent Pay.
What happens at break times and lunchtimes?
We recognise the importance of all pupils having a break from academic learning and enjoying time outside during the school day. We will therefore be increasing the amount of physical activity that the children engage in. At lunch and playtimes, reconnecting with friends will be an important aspect of pupils settling back into school life, so we have made some adjustments to break and lunch times to ensure the children can do so safely.
Our year group bubbles will be allowed out to play on a staggered rota so that playgrounds do not become over-crowded and social distancing will be maintained as much as possible. Play equipment that cannot be sterilized will not be used during this period. Lining up at the end of playtime will be done with social distancing as much as practical, and re-entering the building will be staggered with bubbles using separate entrances as much as possible.
What about school lunches?
AiP, our usual school meal provider will be supplying our meals prepared in the school kitchen. Our year group bubbles will go into lunch together, but will be seated in rows all facing the same direction, as they do in class. The number of pupils in the hall at any one time will be reduced, so lunchtime does take longer. The hall will be well ventilated, with doors and windows open. The school meal offer will be a mixture of cooked meals and grab bags of packed lunch on Fridays.
All our infant classes will receive a school meal every day through Universal Free School Meals. If your child is in the juniors, and is entitled to Free School Meals, they will automatically receive a school meal every day. AiP are happy to provide meals to the families of junior children. Meals should be ordered and paid for in the usual way on Parent Pay.
If you supply your child/ children with their own packed lunch every day, this should be brought to school in a disposable bag (plastic or paper) that can be thrown away. Hard plastic items such as lunch boxes can carry the virus for up to 72 hours, and can be the source of contagion so we would prefer that these do not travel back and forth.
Is the school day different?
To minimise the number of pupils and staff assembling for periods of time, we have made the following changes to the school day:
Parents will not come on to the campus, unless they have a prearranged appointment. Signage will help parents to find the right drop off and collection points where your child will be handed over to a member of staff.
Drop Off
Between 8.35 – 9.00: Year group bubbles arrive at their designated gate within their designated time slot using distance markers to line up at their designated gate
11.45 – 1.45: Staggered lunchtime.
Most year group bubbles will be accommodated in the main hall on rota. Seating incorporates bubbles being kept at a distance from other year group bubbles. Year group bubbles will have designated zones on the playground when out at play.
Pick up
3.15 – 3.30: Year group bubbles are dismissed at the end of the day within staggered timeslots. 1 adult should arrive per family to collect their child/ children at the designated pick up point. Staff in school will hand your child over at your designated gate.
I have more than one child – how does that work?
Children in the same family can be dropped off in the morning together at a sibling's later timeslot and gate. Staff will support children to find their correct route in to join their year group bubble. Staff will contact families to confirm arrangements for sibling drop offs and collections; times and gates. We will confirm these arrangements via Class Dojo message or by phone call.
Friday Deep Clean
Children will be dismissed at staggered time slots from 12.45pm onwards from their usual pick up points. Lunch will be provided in school before pupils are dismissed.
On Friday afternoons staff will be directed to work with their year group colleague to plan and prepare the children's lessons for the following week. While teachers are planning, preparing, and assessing the pupils' work, the cleaning team will carry out a deep clean of the school site ready for the next week.
Key worker families can continue to expect support with childcare on Friday afternoons and their children can remain in school, if that is needed.
Are there any school events?
Please note that our usual parental engagement activities will be conducted remotely due to restrictions around large gatherings. If the situation changes as the year progresses, we will review this decision and update families. We are being led and are expected to adhere to the guidance published by the Department for Education, which is updated regularly.
What about travelling to and from school?
Birmingham City Council are encouraging as many families as possible to avoid using cars when travelling to school, as parking causes more congestion outside school and makes social distancing difficult. Families are encouraged to walk, cycle and use scooters to travel to school where ever possible.
If driving is unavoidable, please try to park at a distance and walk the last part of the journey, to avoid parking very close to the school.
School will be maintaining a one-way system drop off zone on Glenmead Road. Vehicles will come on to Glenmead Road via Meadthorpe and go off via Dyas Road. One-way signs along our school perimeter fence will act as a reminder to families.
If travel on public transport is unavoidable, follow the latest safety advice.
Travelling on the bus safely during COVID-19
Support for pupils and families
We do not underestimate how difficult the recent months have been for us all and many families have suffered greatly during the coronavirus pandemic. We recognise the need to focus on pupils' emotional wellbeing as well as their return to learning and will be focusing on that in the summer term. Mrs Harper and Mrs Pidgeon will continue to offer pastoral support to our children and can offer Early Help on request.
Birmingham City Council and The Children's Partnership are providing a lot of support to residents in our authority. The umbrella of support services can be found on their website: Birmingham Local Offer and services to support families during the pandemic can be found at: From Birmingham With Love. Visit the BCC website to explore what support is available.
Parents may wish to seek support for themselves from the following support agencies:
Samaritans – call free 24 hours a day on 116 123
National Domestic Abuse Helpline – call for free and confidential advice, 24 hours a day on 0808 2000 247
Shelter provide free confidential information, support and legal advice on all housing and homelessness issues if you call 0330 0536 083 (please note, this is not a free phone number and your call will be charged), or their free webchat is available at https://england.shelter.org.uk/get_help/webchat
I hope that these arrangements provide you with the information you need to support your child's return to school. I would like to take the opportunity to thank you for supporting the school over recent months and the very positive feedback you have given to us about the support we have offered our school community.
By working together, we have helped to make a very difficult situation a little bit more manageable. We extend enormous thanks for your support and patience.
Other useful Policy Documents:
Behaviour Policy 2020 with Codicil
Health & Safety Policy June 2020 with addendum
Model Safeguarding Child Protection Policy 2020
BCC Model Policy Additional Guidance 2020